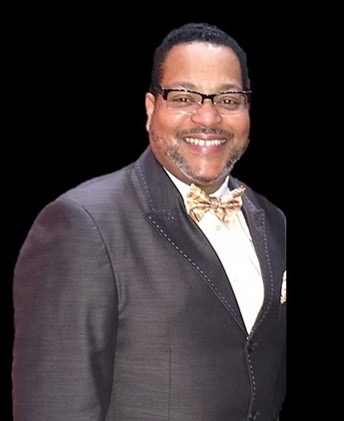 Meet Reverend Michael Flowers
Pastor Michael O. Flowers was born in Washington D.C. to the late Odell Flowers & the late Veronica Flowers. He graduated from Olympic High School in Charlotte N.C., later graduating from Shaw University with his Bachelor of Arts degree in Religion and Philosophy. Pastor Flowers also attended Gardner Webb University and Seminary in Boiling Springs N.C. where he earned a Master of Divinity.
Pastor Flowers after much reservation, yielded to the call of the gospel ministry and was licensed to preach July 18,1993 by the Greater Fellowship Missionary Baptist Church. He served faithfully in the ministry until relocating to the Maryland area in July of 1997. He then joined Glendale Baptist Church now known as The Sanctuary at Kingdom Square Capital Heights Maryland. Under the influential teaching, training and leadership of his Pastor Anthony G Maclin, he was molded into the leader he is today. After relocating back to the Charlotte area, he went back to Greater Fellowship where he continued his ministry and was afforded the opportunity to become an ordained minister of the Gospel.
Pastor Flowers started his pastoral ministry as interim Pastor at the First Church of God of Marshville N.C., later becoming Pastor. Together they completed renovation projects and became actively involved in community outreach projects with city and local church organizations.
By the adherence to the voice of God, Pastor Flowers accepted his call to the Liberty Hill Missionary Baptist Church Waxhaw N.C. in August 2008. Under his leadership he led the church in many renovation projects and in the acquisition of property for development to accommodate ministry and programs to aid the community. Through his inspirational preaching, teaching it created an atmosphere of love for the membership and to all that attended. Many new ministries were formed and implemented to accommodate the increasing need for spiritual growth, leadership and community involvement. In addition to the work at Liberty Hill, Pastor Flowers served as the Christian Education Director for the Lanes Creek Baptist Association.
In October 2019, Pastor Flowers was called and elected by Gethsemane Baptist Church also known as GBC of Lake Norman. It is Pastor Flowers' desire to serve this dynamic ministry and to further spread the gospel of Jesus Christ, meeting the needs of the surrounding areas through community outreach. It is his anticipation that God will do great things for the Glory of God and edification of God's people through this union.
Pastor Flowers is married to the former Angelita Sanders. Through this union they share five wonderful children and four grandchildren.
Through his commitment to God and his compassion for the family of God, it is his desire and prayer that God would utilize him in such a way that the lives of the community are changed for the better through experiencing God's love ultimately making a significant impact in the world for the glory of God.